---
AmSARC Sponsored Session at the Annual Meeting of the American Society of Overseas Research, Nov 17-20, 2021, Chicago in person, Dec 9-12 online.
For more information about the program and attendance: https://www.asor.org/am/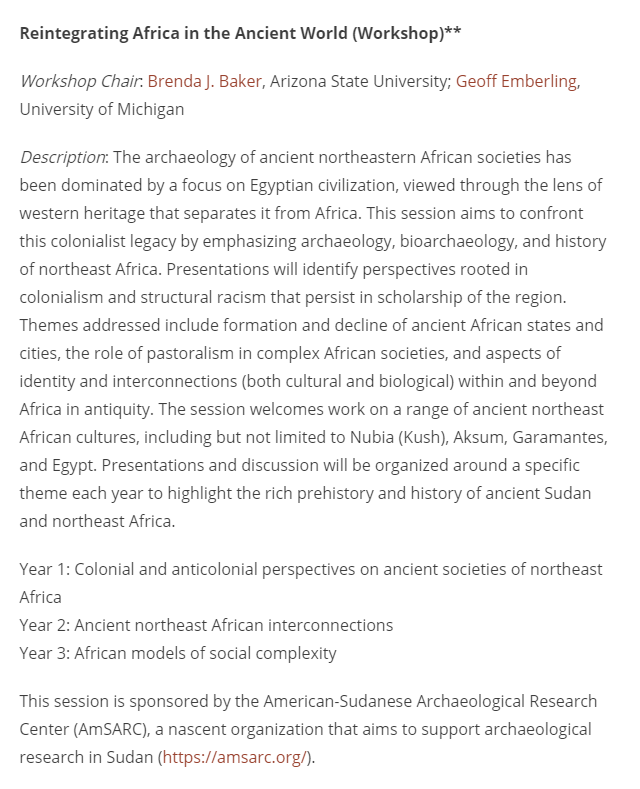 AmSARC is the American Sudanese Archaeological Research Center, an independent not-for-profit founded in 2017. Our mission is to encourage American and Sudanese archeological research and collaboration in Sudan and provide the network and support for success. The center facilitates research and nurtures scholarly ties between institutions and individuals in both countries as well as conducting its own archaeological research in Sudan. AmSARC also organizes outreach on public archaeology throughout the two countries. AmSARC was incorporated as a non-profit corporation in California and has secured 501(c)3 status.
Services provided:
Consultations to establish and manage projects in Sudan.
Recommendations of professionals and specialists for archaeological mission teams.
Facilitation of transportation in Sudan.
Assistance with the custom regulations in Sudan and international shipment of materials.
AmSARC Institutional Members: